Light Speed Engineering, LLC



Home

The Company

About Us

Team

Contact



Store


Ordering

Pricing

Terms of Sale



Plasma Ignition

Ignition Intro.

CDI Features



FAQs

Plasma II Plus


Plasma III

Complete Kit

Dual Ignition


Crank Sensor


Mini Sensor
new

Ignition Specs

Installation-

Pictures

Sparkplugs

Parts &
Accessories

Manuals

Manual -

Diagrams

Troubleshooting


The Latest


News

Service Bulletins


Other Products


O-200 Pistons


Composite Parts


NACA Duct


Wheel Fairings


Spinner
& Bulkhead


Gear Fairings


Consulting


Aerodynamic -
Modifications




Technicalities


Articles


Prop Care





last update:
December 03, 2007
| | |
| --- | --- |
| | PIONEERS IN THE DEVELOPMENT OF AIRCRAFT IGNITION FOR HIGH PERFORMANCE CUSTOM BUILT AIRCRAFT |
Light Speed Engineering is a leading company in the design and production of speed modifications for sport aircraft registered in the experimental category.
Since 1986, practically all speed and efficiency competition has been dominated by aircraft with Light Speed Engineering technology. Some top finishers not only use LSE Plasma CDI ignition systems but also our high performance carbon fiber propellers, composite spinners and wheel fairings.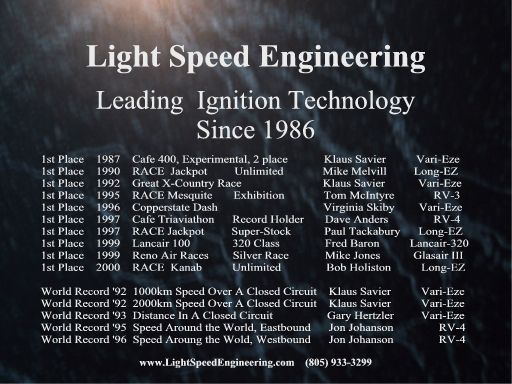 Copyright ©2000 by LIGHT SPEED ENGINEERING, LLC. 416 E. Santa Maria St., Hangar-15, Santa Paula, CA 93060 U.S.A.
Mail Address: P.O. Box 549 Santa Paula, CA 93061 U.S.A.
Tel: 805-933-3299
Web Site Maintenance by Jenny Tackabury